My dearest, beautiful blog. I love you. I love pouring out my thoughts and feelings here. I so much enjoy our time together. Some of my favorite moments are posted upon your goodness.
Lately, though, I've met a new face and have neglected you. I find myself on
Facebook
at all times of the day. You see, I can access
Facebook
with my cell phone!
I know; it's not fair. But I haven't forgotten you. I write long, funny bloggy posts in my mind as I lay in bed at night, nursing the babe to sleep. I think of things while I'm driving that would add such grace to your pages!
To make it worse, my house looks like this: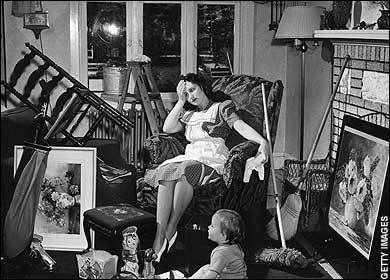 Pretty bad, huh? It must be tackled and SOON.
To make up for the neglect, I've given you a little facelift courtesy of
The Cutest Blog on the Block
. They make the cutest free blog backgrounds with no nasty HTML to learn or personally edit.
I've also started back to Curves for some exercise. After all, it's been 6 months since BB was born and he's finally at a spot to survive without crying for the hour that it takes to go, exercise, cool down, and return.
To top it all off, I'm still teaching Home Ec to middle schoolers every weekday for an hour AND taking personal sewing jobs. In fact, I've got one that I'm putting off starting right now. It's a slip cover for a hard to fit couch.
So, my sweet little blog, I will be back in full force as soon as I can. Hubbers is leaving for a business trip in Feb for a few days and I'm sure I'll need some adult interaction then. Meanwhile, hold fast! The end is in sight.