I'm craving some cracked wheat bread. And it just so happens that I am in possession of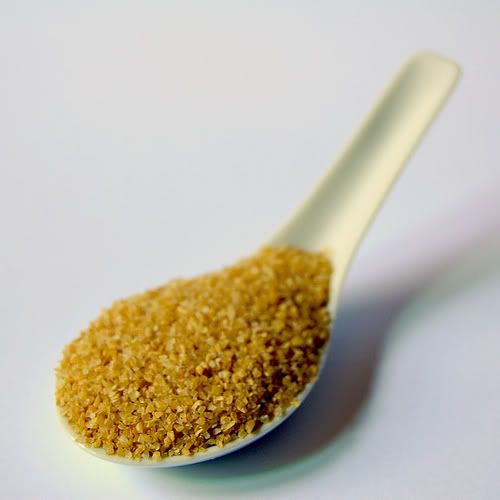 all the ingredients!!
Did you know that Cracked Wheat is also called Bulgar? You might know it better from Indian dishes or Tabouli. Regardless, it's yummy and makes a great bread.
Here's a recipe that you might just find you want to make yourself...
From
Diana's Kitchen
Makes 2 loaves
1/2 cup cracked wheat -- fine
1 1/2 cups boiling water
1 package active dry yeast
1/3 cup warm water -- 100-110 deg.
1/4 cup butter -- softened
1 1/2 tablespoons salt
2 tablespoons molasses
2 tablespoons honey
1 cup milk
1 cup whole-wheat flour
4 cups all-purpose flour
Cook the cracked wheat in the boiling water about 10 minutes, stirring occasionally to prevent sticking until all the water is absorbed. Dissolve the yeast in the 1/3 cup lukewarm water in a large mixing bowl and let proof. Stir the butter, salt, molasses, honey, and milk into the cooked cracked wheat. Cool to lukewarm, then add to the yeast mixture. With a large spoon or with one hand, start stirring in the flours, 1 cup at a time.
When the dough is stiff enough to work, turn out on a floured board and knead a good 10 to 12 minutes, working in a little of the remaining flour as necessary. When smooth and elastic, shape into a ball and put in a buttered bowl, turning to coat with butter. Cover, place in a warm, draft-free spot, and let rise until doubled in bulk, about 1 1/2 hours.

Punch down and shape into two loaves. Put in well-buttered 9 x 5 x 3-inch loaf pans, cover, and let rise again until doubled in bulk, or until the dough reaches the tops of the pans.
Bake in a preheated 375 degree oven 30 to 35 minutes, or until the loaves sound hollow when tapped on top and bottom. Cool on racks. From "Beard on Bread" by James Beard.

While I'm at it, I'm going to make some Banana Bread with a bit of 8 ball zucchini thrown in for moisture. I had some in my freezer, so all the better!!