Still cooking from the
Whole Foods for the Whole Family
by La Leche League International (same as
last week
) as well as some recipes I've garnered elsewhere.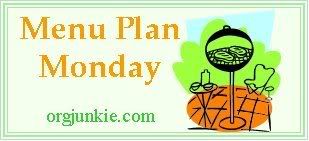 Veggie Manicotti
Chicken Wellington
Easy Beef Stroganoff
Homemade Pizza
Sandwiches and Chips
leftovers
Ranier Cherries are on SALE this week - my favorite kind of cherry - so we'll be having fresh cherries, too. If I can make room in the fridge, we'll also get some watermelon. This seems to be the favorite summer treat of the kids; a nice, healthy choice!
I so much like the summer fruit selection and I'm SO excited to teach my kids that fruit or veggies are a great snack choice! No on ever taught me that and it's hard to change my lifetime habits.
I will be in the hospital having this baby at SOME TIME during this week, plus the kids will be in SLC starting Friday for at least 1 week, so it's a rather truncated menu.
Organizing Junkie
hosts Menu Plan Monday each week and it's a lifesaver if you're stuck in the same rut as many of us - making the same things over and over again.