Here's some great ideas from Family Corner for fun Thanksgiving treats!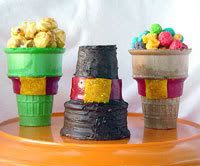 Edible Pilgrim Hats
The kids will just love making these and it will keep them busy enough to stay out of my hair as I holiday bake next week. Grampa on the Farm is coming out, too - maybe he'll do this with them!
Hand Print Turkey Cookies
They look a little creepy to me, but the kids will p robably like doing them. Something about a hand that you eat?
...shudder...
Maybe instead of this we'll do hand print PAPER turkeys with construction paper. A bit more tolerable to me.
Family Corner.com
has so many more great Turkey Day ideas - decorating, cooking, crafts, coloring, and more! I won't be paid by Family Corner for this affirmation, but by my children and their joy. Visit anyway!