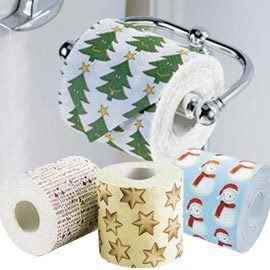 Yes, Sheryl Crow has decided to
limit the use of toilet paper
for the entire world. She tells us that one square of paper is sufficient.
Unless it's a "pesky" occasion when you may wish to use two, or even *
GASP
* three.
Who knew that Ms Crow would propose the one thing which would save the world from itself?! Why didn't anyone else think of this? How could I not have
known?!
Tell me, now, who died and made a celebutard singer think she knew enough to propose an environmental solution of such bilious proportions?
I'm not making toilet paper chains, toilet paper snowflakes, or out toilet papering the neighbors - I'm wiping butts. And it ain't gold, neither.
Personally, I use as much as it takes. And we don't use that super-thick super-hooty super expensive paper that's two or three ply. We use the 1 ply stuff I grew up with.
(Plus it's got a
Box Top for Education
on it!)

So, Ms Crow - you use however much you want and leave my loo alone. And YOU try teaching a potty training child that only one sheet will clean it all.
God bless Scott Tissue.
---------------------------------------------------------
World Breastfeeding Week: August 1 - 7