I got
drafted
guilted
asked to make up a quilt for each of the Kindergarten classes at school this year. Since my daughter is in one of them, and
sewing is my business
, how could I say
no
?
I have little experience with the layout and design of quilting - I've only made three of my own. Well, let me amend that to say I
COMPLETED
one baby quilt for my son, a top for my own king size bed, and a few log cabin rails of the top for my
CurlyGirl
.
My own quilt has been in the works for several (ahem) years.
CurlyGirl's
even longer. Shame, shame, shame... At least I can admit it and move on.
Wait, wrong therapy jingo!
Anyhoo
- after some design help from a SO knowledgeable friend I got the squares cut and (mostly) sewed together. The fabric was provided to me, so all I'm doing is putting it together.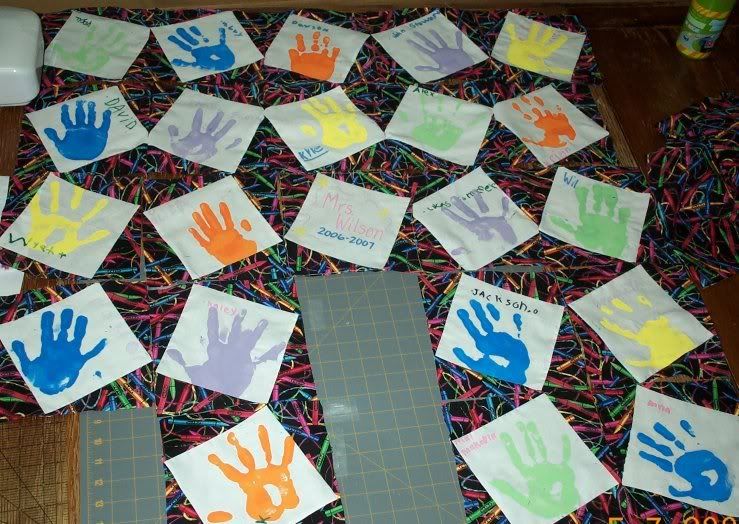 The
hand prints
and names on those blocks were made by each kid. The empty spots will be filled in with the school name (sorry, ain't
sharin
' that) and one empty one for the teacher to journal on, if so desired.
You can click on the image to see a bigger, clearer shot (stupid blogger - not enough SPACE for pix).
Comments, questions,
adoration
ideas?
Click on
Now YOU say...
down below and SAY IT!
---------------------------------------------------------
World Breastfeeding Week: August 1 - 7