In case you ever wondered,
Cinco de Mayo
is
The Fifth of May
in Spanish. It commemorates the victory of Mexican forces led by General Ignacio Zaragoza Seguin over the French occupational forces in the
Battle of Puebla
on May 5, 1862. This is not Mexican Independence day, however, just a national (not federal) holiday. The MID is Sept 16.
Just like St Patrick's Day, you don't have to be Mexican to celebrate Cinco de Mayo. Most celebrations are centered around music, food, drink and dance. So maybe you've seen the displays at your local StuffMart and wondered what all those peppers and margarita glasses are about. Lucky for you, I am ALL OVER the info.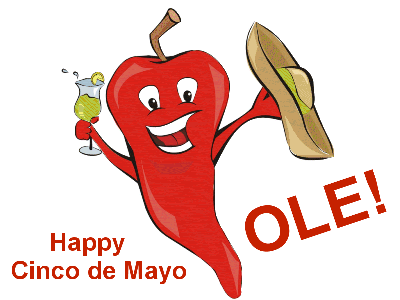 Here are some lovely links about Cinco de Mayo:
Courtesy
Dine Without Whine
, a report on
Cinco de Mayo
(in PDF format) which includes history, crafts, songs and recipes!
Easy recipes
, including a good margarita mix recipe, for your celebration from Kraft!
Easy activities
you already know about adapted for this festival from Kids Domain.
One more activity site,
Apples 4 the Teacher
, with lots of other Mexican themed activities, including coloring pages, word searches, Spanish alphabet and numbers, and a talking Mexican eBook in the "Read to Me" style.
My baby girl will be turning 8 on Cinco de Mayo. She was a large baby, born at 9 lbs 3 oz, and it was joked that she was ready for a taco when she came out. It's our family tradition to let the child choose dinner on his/her birthday, and did my sweet CurlyGirl choose tacos? enchiladas? burritos? my favorite Mexican restaurant?
No. She. Did. Not.
She chose PIZZA. Pizza? I am seriously going to have to rethink my birthday strategies...
I am still going to force some stylized fun on my monkeys!


Ole!