Here we are, just 7 days into the new year, and I'm 5 days into my new lifestyle diet. I'm doing the hCG diet again, with which I had great success last time. The reason I stopped before my goal last time? Easy. Chicky Punk was on her way.
I'm using the
Dr Simeon's protocol
again, but being only 5 days into it, I'm still working on the right dose to keep me from being hungry. It's a very low calorie diet but it works wonders. I've lost between 1 and almost 3 pounds a days since I started. I am finding myself craving things I cannot have and I just keep telling myself I can have them in moderation after this first phase is done, next month.
I'm kind of following along with Tania from
Larger Family Life
and her
Free Skinny Me
.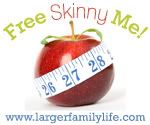 So, it's a whiney post for me today. Let's end with a great quote:
Motivation is what gets you started. Habit is what
keeps you going.
— Jim Ryun:

Former track athlete and politician
I'm posting my progress on top of my blog. See that My Fitness Pal banner? Yup.