It's true. It's only Sunday night and I don't feel like eating dinner yet, so I'm working on making our menu for this next week. The thing is, our baby is due just about any day and I really wish she'd come NOW NOW NOW, but I gotta do what I gotta do. So I've picked a few recipes that are new for me and look good. Of course, when baby makes her appearance, all is subject to change.
On to the list!
Chicken, broccoli and rice with cheesy creamy sauce
This is one I am kind of going to make up as I go along. I have other recipes like this that I like, but the craving for chicken with cheesy broccoli goodness is high.
Pork tenderloin, white bean, kale soup
I found the recipe for this when searching for high iron recipes. I don't have tenderloin so I will use pork roast. I am also going to use great northern beans and spinach as substitutions. Hubbers couldn't find kale at the grocery store when I sent him.
Hoisin Glazed BBQ Pork Ribs
I was looking for a
rice cake recipe
and ran across this site and found this beautiful pork rib recipe. It looks so good!
Sweet & Sour Stir fry
with
Egg Drop Soup
The kids love this egg drop soup so much that even the double recipe leaves them asking for more. I love the sweet & sour chicken because I just do! I will add veggies into the recipe to stretch it a little further with the hungry hordes around here.
Pizza
Homemade, of course. I've been liking artichoke hearts, mushrooms, and onions on the adult pizza that I make. Also bell peppers... ummmmm! The kids get regular old pepperoni or plain.
leftovers
Hard to believe, but there are occasionally leftovers around here. If there aren't, then we'll do some version of breakfast: waffles, french toast or something.
Rosemary Chicken with White Wine Sauce
And doesn't this look great!? I have a lot of chicken in the freezer after a great buy at the store a few weeks ago. I will use cooking wine instead of the full monty alcohol version.
And just for kicks, I'd love to try this dessert:
Lime Melt Aways
They sound like lime butter cookies. And I do love me some real buttah... And lime is heavenly. I do need to get a better juicer, though.
More than 300 others post weekly to the Menu Plan Monday site, hosted by
Org Junkie
.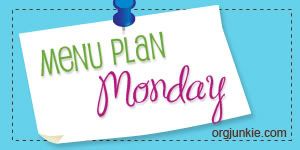 Make sure you stop by!
Images courtesy
Morgue File