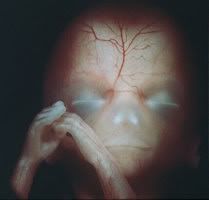 Yes. The baby has made it to 16 weeks! I am feeling him/her move and have heard the heartbeat at the last 2 appointments. It's so comforting to feel baby move - like a reassurance that all is okay.
So here's the lowdown on 16 weeks, now with PICTURES!!
My baby now has facial expressions!
The fetus measures nearly 5 inches (12cm) from head to buttocks.
The fetus weighs about 3.5 ounces (100 grams).
The fetus is covered with a protective soft down to regulate its temperature.
Fat begins to form underneath skin.
Baby hears external voices, sleeps and dreams.
Your baby has learned to breathe. This is apparent from the regular movements of his chest, inhaling and exhaling small amounts of amniotic fluid. These actions help the lungs to develop and grow. More developed facial muscles may lead to various expressions, such as squinting and frowning. Your baby nows weighs more than their afterbirth. The baby can grasp with his hands, kick, or even somersault.
I am really wishing for a belly support band. I read some good things about ContourMD.com from Raising Arrows, but I'm not sure I need the same level of support she does. I can't feel a discernible split between my belly muscles
. It's possible that I don't know what I'm feeling for, but then again...
So, I'm looking into it. What do you think?
source: baby2see