Houston, we have Menu!
Hosted by
Organizing Junkie
Each WEEK! - Now with new banners...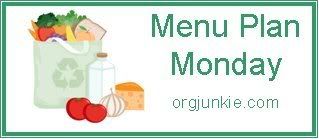 Burritos
Oven Fried Chicken
Leftovers
Shortened post since my computer tried to DIE on me this weekend and I'm working with some cobbled together version Hubbers put together.
The fish was awesome! We had it on Sunday night. I wonder if it would taste good with a different nut? Pecan? Pine Nut?
We have a birthday today - Curly Girl is 9. Where does the time go? We celebrated with Cherry Cheesecake and presents last night, but her dinner choice tonight - Burritos.
Don't forget Mom's day this weekend! Forgot? Need to buy something? Check out this: